I Want to Cancel My Account So I Can Split My Direct Deposit Through My Employer.
Sorry to hear about this – we deeply appreciate your feedback as a valued DailyPay customer.

    Note   
You don't have to cancel your account to split your direct deposit. You can split your direct deposit between two bank accounts directly in the app using the Automatic Savings feature.
When Automatic Savings is enabled, the earnings you choose to set aside as Savings are not included in the Available now balance, but instead are reserved to be sent to the preselected bank account on payday, which can be a different option than your primary bank account.
The rest of your remainder paycheck goes to your designated primary bank account on file, as per normal DailyPay process.
Check out this article to learn more about Automatic Savings.   
To cancel your account:
Step 1: Log in to your account and navigate to Settings from the drop-down menu on the left.
Step 2: Select Account Cancellation.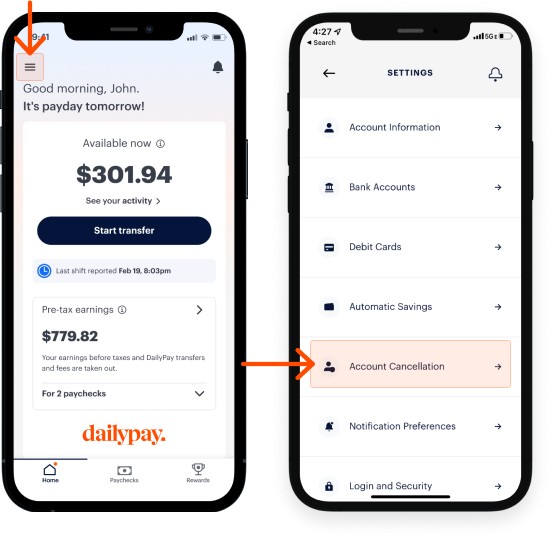 Step 3: A new page will open where you will be able to confirm your request for cancellation. 
    Note   
If you have made earnings transfers ahead of payday, you may request DailyPay account closure at any time, but we'll receive your final one or two paychecks from your employer to cover the transfers that we sent you early. Once we receive your final paycheck(s), and the account balance is covered, your account will be fully canceled out and you will receive your paychecks through your employer moving forward.   
Should you wish to use our service in the future, there is no cost to keep your account active. If in the future you would like early access to your earnings it will be there for you, and you can reactivate anytime, as long as you are still working for a company that offers DailyPay and remain eligible.
Was this article helpful?